It's a new day and age and Covid-19 is forcing everyone to work Remotely. It's understandable that managing Remote Employees is tedious but the thing that should not trip you up is you're assured that they're giving you quality work moment to moment and your quotas are being done when they need it.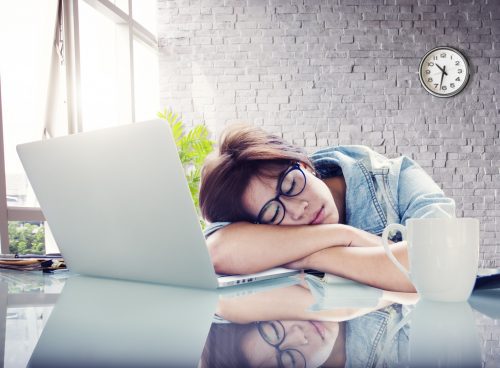 Uplifting the managing style that you do is crucial because as you start your newly remote team, there will be different ways of going about your work prior to the coronavirus. It is essential then to keep engagement constant and encourage them.
Here are some of the reasons your Employees are Sleeping on the Job:
No Encouragement
If they've simply been rank and file workers with no encouragement from the office, then something is going to need to change. An employee with lack of morale is absolutely not inspired to do his or her work and even if they have Time Doctor taking screenshots of them every hour, they're gonna give the illusion they're working hard with some clicks but actually, they're probably playing Mobile Legends.
Encouragement is key and letting them know, that especially in this time of the coronavirus, they are going to need to step up their game.
No Accountability
If you don't give them a set of KPI's and metrics, your management style is not going to wash. Your remote employee culture needs to improve through having a set of phone calls, quotas, number of leads generated per day, number of resolved calls or a number of new ideas which are going to be able to give your workers a roadmap to where you want to go.
They have family problems
If their family is not supportive of them, if they have a wife who is ailing, or they are taking care of both their mothers and their fathers, this is something that is going to distract them from doing a terrific job. To ensure that this does not get in the way, it might be good to ask them if they need counseling or if they need any makeshift means at all for easing their Work from Home workflow without compromising your needs.
They are slackers
You might just have to face the fact that you've hired some slackers. True character won't always show when you can see them in the office. So if they've always been short changing you somehow prior to coronavirus, then there is a chance they will.
The solution to this is improve your Screening process and to make sure that you set accurate guidelines.
They are unsure of your company's future
Something that might discourage workers is if they don't know your company has a future at all. This might make them slack off and generally care less about the rest of the job.
The solution to this is to provide them a clear picture about your marketing campaign efforts and how you are working hard to get your products and services out there in spite of the pandemic.
Letting them know the urgency of how they need to move fast because of the coronavirus and because of how the economy is changing is very important.
You don't ask them for updates
If you're not interacting with them on a regular basis, then it's good to have your Supervisors check in on them every now and again. If your remote employees get the impression that they don't have to participate in any sort of engagement, then their work is useless and they'll just sleep this off because they feel their boss doesn't care anyway. So engaging in them and asking them for updates on a regular schedule is obviously important.
You don't give them ice breakers
If it's all work and no play and you don't give them a chance to engage in other activities such as being able to share jokes, memes and videos with the team in your group chats. It's possible your working style might be very dry and with that, you need make sure you create a safe, fun, yet conscious working environment that easily caters to many of their needs.
You distribute their tasks equally
It's not a good idea to have one member of a team do a host of your tasks while others simply have a lot of down time. To begin with this is what encourages people to slack off if your tasks are not delegated properly.  If people are all productive and each are doing their respective routines, then you don't have to worry about anyone doing much lesser than the others and so on.
They don't like their jobs
This is plain and simple. You've hired them, they agree to do everything you say simply to get the position but the minute things start to get mundane, with or without the presence of coronaviruses or centers for disease control and prevention mandates, they slack off.
It's important then to in the HR Process, challenge them and tell them what things they will be doing that they aren't normally familiar with. Tell them to disagree with you on the Interview. This will gauge their honesty and to see if they actually like their jobs with some level of credibility.
These are just some of the reasons some of your remote employees might be slacking off. But if you take care of the root causes, of course they will be working hard. And it takes people who believe in your company who are gonna uphold its values and care about your own quotas.