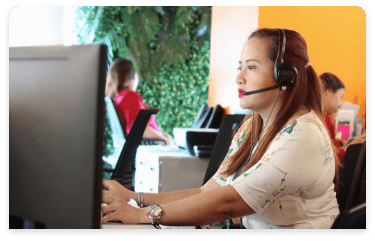 Customer Support Outsourcing Philippines
Sometimes, the different aspects of your company require a plethora of technical components, web navigation and perhaps even the use of mobile apps and numbers.
In order for you to keep your clients using your services, there needs to be an assurance that there is always someone there at the other end of the line.
If you're opening an eCommerce store, these customer support specialists are highly trained in Web navigation.
Also, they need to know about product specifics to ensure that they thoroughly attend to your needs.
To begin with, you need to develop good products and services.
Obviously, the best way to do that is to have your outsourced team ready with you at all times, provided your operations are already live.
Main Responsibilities of Customer Support Agents:
Handling renewal calls, tech support both inbound and outbound
Managing objections and claims and be familiar with social media platforms
The basic ability to handle incoming calls
Being able to advise the sales team and other inquiries having to do with customer support
Work as an escalations officer to satisfy the required investigations
The ability to empathize and sound like a champion for customers
These are all key steps of building loyalty through exceptional customer support.
Core Qualifications of Customer Support Experts:
Perfect communication in spoken and even written English
Inquisitiveness
The ability to paraphrase
The ability to relay information to their Supervisor or Results Coach
Ability to adjust the manner of English to suit the cultural differences
Mastery of product-specific knowledge.
The ability to document records accurately
Customer success can only be ensured if the day-to-day activities consist of properly accomplishing the needs and requests of customers.
You might hire other people such as Lead Generation specialists to begin fostering a relationship with the right prospects.
Whatever you do, it's vital that you don't just hire a generic Business Process Outsourcing company but you care enough about customer experience is enhanced in your practice.
Below are additional skill sets that people can learn in order to be able to function properly.
Knowledge Base Understanding
Your knowledge base or K-Base articles are often technical pieces of content that describe the products and how to navigate these products.
They need to be able to comprehend it inside and out.
As a customer takes a call, they need to be able to respond promptly and appropriately.
Improving Efficiency with Regular Coaching
The thing about having an on-site Coach enables you to not only refine the skills of your employees.
But it also improves the overall state of your services.
Phone support is a dynamic process and while there are a certain set of metrics and KPIs to follow, it's important that you be able to change these.
Furthermore, you allow your employee to make the right changes given the right parameters of customer-centric servicing.
Establishing Rapport with New Customers
If there are new callers or people who have just begun subscribing to your services, then establishing rapport with them is crucial.
That is the only way you are going to get repeat engagements and ultimately the establishment of customer retention.
Superb customer support representatives are versatile enough in providing the right kind of attention and support for old and new customers.
Being Able to Sit Still
One of the demands of this job is to actually sit still for long periods of time, being able to operate a computer with the presence of mind, and also interface with the telephone and other equipment as needed.
Since customer satisfaction is paramount, your customer service team should be able to perform these functions with the utmost efficiency you require.
Why You Should Outsource Customer Support
This job requires discipline and strong focus.
Hence it's important to be able to find the right people for the job.
It helps if you focus on your Core Tasks and everything you do has to be on the front end of closing deals and meeting new prospects.
The best advantage of outsourcing is predictable costs.
If you decide to incorporate and open an office where you live, that could shoot labor costs up.
You don't need to shell out a lot of money if you can have an Office for Hire.
You want to be able to take advantage of the most competent staff but make sure that they are fully equipped.
Things You Can Do With A Customer Support Representative
Ask them to study and internalize ALL of your product lines
Ask them to make mock calls before you book them to provide a clear picture of their skill set.
Request them to make changes to your K- Base scripts if you feel that the structure of the knowledge base needs revisions
Ask for Customer Feedback and determine if your scripts are working.
Synergize and Meet with your Remote Employee and their RESULTS COACH to come up with new strategies altogether.
Train them with basic CUSTOMER COMPLAINTS tasks
Allow them to take as much time with a Call but establish certain parameters with irate and difficult clients. You dictate what Promos CAN and CANNOT be given by your Company.
Tell them to work with your MARKETING TEAM. And this empowers you to come up with new Sales strategies or Cross-selling which boosts your bottom line and turns a CUSTOMER INQUIRY into a SALE.
Why Outsource to the Philippines
It can't get any better than hiring a Remote Staffing Company that allows you to retain full operational control of your business.
It's important to Outsource your work to the right destination.
The Philippines is among the Top Outsourcing locations in the world.
It's because the best of the best people are highly literate in both oral and written English.
Being able to communicate and match the caliber of Native speakers is essential.
But more so, it's important to provide an outsourced remote staffing provider who is able to provide the office space, the equipment and the infrastructure including internet and power and backup lines to ensure your operations run smoothly 24/7.
In summary, here are all the positive traits of a reliable outsourced customer support provider.
Full Pricing Transparency
This is important because, in order for your business to grow, it needs to be on your own terms and within your budget range.
It's vital that this company enables you to view these changes with absolute transparency so you would know how you want to partner with them.
Fail-Safe IT and Tech Support
It's vital that the same firm also has their own tech support team for the various remote staff they employ.
You don't want to hire a freelancer.
It's important that you appoint someone who actually is accountable and reports to an office for a given duration.
If this is in order, then it becomes easier to tailor your operations towards your necessities as a businessman.
HR with Full Compensation and Benefits
Think about this, if you had to pay your employees plus remit all their government benefits, wouldn't that be a more costly option?
If however, you chose to offshore your work in a highly efficient, experienced way, then that only allows your business momentum to grow.
A remote office that accommodates all of these things for you while allowing you to keep track of your employees and their activities.
If all of these tasks are taken care of, there's no reason for you not to succeed at what you do.
You shouldn't just settle for good customer service.
You want to provide impeccable customer support.
That is the way you can ensure that the experiences of your buyers are top-notch.
At iSuporta, we offer you the chance to dictate the size and scale of operations so you determine what the metrics are.
Your support channels need to contain all the resources possible so that your momentum in sales and reaching prospects is not compromised.
And as your products and sales program goes live, then your employees are going to begin their practice of actively reaching out and helping the needs of clients so their use and enjoyment of your services are impeccable.
Do you wanna get started working with us?
Best Use Cases for quality data sets 
We focus on high level of accuracy, with internal training programs, and knowledge share, to make your Artificial intelligence (AI), Machine Learning (ML), and Natural Language Processing (NLP) project a success.