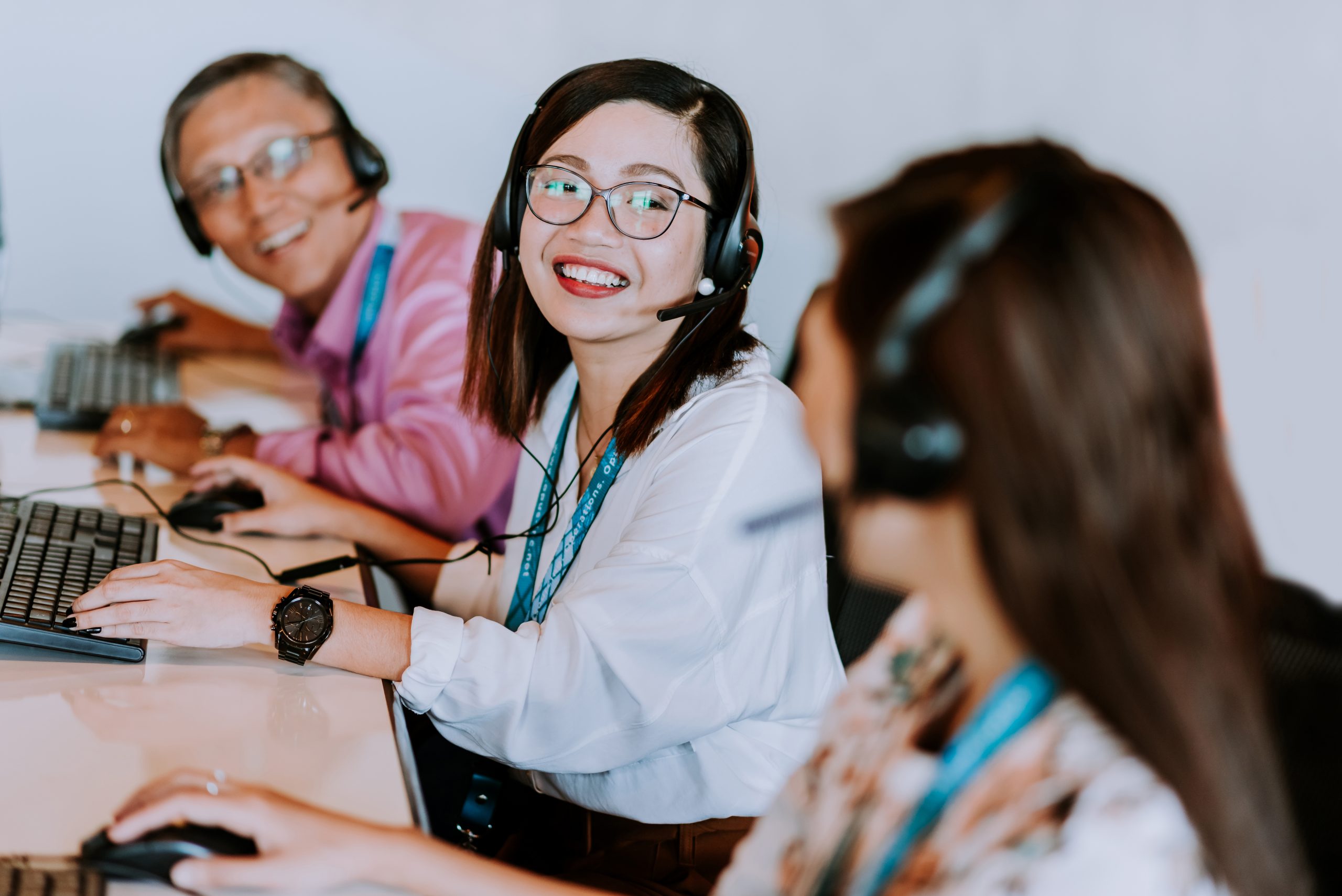 Telesales Outsourcing
Telesales, simply put is the art and science of selling products and services directly to the customers via a phone call. Sometimes this is a part and parcel of cold calling. And in some occasions it goes by the name of telemarketing.
Sometimes, telemarketing and telesales. Sometimes these job descriptions do overlap so it's important to note what the differences are between them. But let's be more specific, telemarketing is a service that piques the interest of buyers, educates potential buyers and offers customer feedback.
Here are some of the fundamental skills of a telesales agent.
Perfect English
If you're trying to close a deal, there needs to a high quality level of communications. You cannot fudge on this area. It's important that the person you position for making these phone calls knows what they are doing. It isn't just grammar but nuances and idioms. Fortunately, in the Philippines the majority of contact center workers have impeccable English with neutral accents, capable of mirroring the American twang to converse with international prospects or customers. Persuasion
It's important that once you've called a good lead, the person is able to follow through until they consummate these interactions with a sale. It's important that on your end, you develop a product or a service that offers a solution.
Once you find a unique approach that makes your business stand out, it's a matter of letting your Telesales team begin making the pitches. This should also be in line with the knowledge you then give your live chat agents and phone support specialists.
Creating Telemarketing Scripts
Everything which makes your products and services visible counts, if done right. Social media marketing, email drip campaigns and making cold calls should work hand in hand together. At times your agent also needs to be an innovative Actor and Writer. The thing is there are unique selling points (USP's) which strike a chord with certain niches. And once your agent is able to resonate with your prospects, then you have efficiently captured their attention.
Enticing Curiosity
Any good pitch should also include being able to entice curiosity about your brand.
This is the process of persuading your customer to use your brand and services. You're going to have to ask yourself, what makes your brand unique. Sometimes, this is tied to your practice if you already have a customer service team.  If you're able to hire someone who is able to make a connection but at the same time peak the interests of potential buyers, then those are the best of both worlds.
Passion
This is a crucial aspect of Telesales. It's important that your sales specialist have a passionate personality because this can also affect the mood of potential customers and prospects. If your sales agent comes at this with a jolly and animated personality, the more this puts your prospect at ease.
The Telesales staff you put on the front lines are immediately those who provide the first impression buyers have on your brand. It absolutely makes sense then to choose people who are driven and passionate. This ensures that the words they say are coming from a real place. If they are sold on your product and service, they definitely can encourage, entice and advocate on behalf of your product line.
But there are a few other components that go into the practice of Telesales and Telemarketing. These involve working together with a team of lead source specialists, digital marketers and maybe even content writers if you have someone else write their scripts. Your best bet would be to find a candidate who matches these qualities and more.
What other tasks do Telesales Staff Perform?
Phone numbers and calling leads
Sometimes, a lead generation specialist is the one who finds the right people, their phone numbers for the Telesales call center agent.  They start by introducing the basic premises of the services you have. And then they connect with a prospect by inquiring if any of the offerings your company has appeals to this buyer.
It's vital to know when and what are the best times to make this call. This ensures that response times are ideal and it is treated in the same manner of care as other aspects including customer support and live chat support.
Virtual calls and virtual meetings
Often, your telesales specialist would also be holding virtual calls or virtual meetings to ensure that you connect with this prospect by remote.  Through this you are able to gauge what client and customer expectations are in real time. If you know what your potential customer feels, you'll be able to improve the way your remote contact center achieves its bottom line.
You will need to do prospecting however and decide what your target market is. We at iSuporta can do the further research and then through fine tuning the people you want to sell to, that makes it easier to close some deals and obviously serves your practice all the more sufficiently.
Taking customers calls and prospects
Though you might have another support agent answering inbound calls, it's also important to take note of what inquiries arise in your current product line. Having a team who can assess the way your brand is doing is vital.
Another thing is that though you may be offering one service, your clients may be looking for something else. Finding areas of opportunity which you can choose to work on can lead to the beginnings of working relationships.
Projections from existing customer experiences
You also need to do a projection based on the prices of your products and how they are distributed. This allows you to come up with estimated revenue so that you know your business is going to thrive.
If you allow yourself to target the right market this enables you to save simply because your strategies are reflecting the needs and wants of customers. But if ever a strategy isn't working there are always ways to customize the way you do things.
If you've already invested in your product line, it's time to put it out there in the world. It's important that people believe in what you do. Telesales and Telemarketing go hand in hand. It does involve a telephone once your agent starts making a cold call. And the best way to do this in a cost efficient manner is to find an outsourcing partner who provides everything.
You need the assets, the equipment and the infrastructure so that your Telesales team is able to perform to the utmost standards. This way you can take advantage of call center chat support if you see fit and improve customer experience because you have developed a brand that is unique to you and your way of implementing your tasks.
Of course, your telesales efforts are only one aspect of your entire enterprise. Because you will also involve yourself in Web development and Web design if you want your site to go up, you can also hire a team which necessarily includes those functions – if you want to.
A really good outsourcing partner allows you to customize your operations the way you see fit.

Best Use Cases for quality data sets 
We focus on high level of accuracy, with internal training programs, and knowledge share, to make your Artificial intelligence (AI), Machine Learning (ML), and Natural Language Processing (NLP) project a success.