Listen to a real Blogger / Copy writing outsourced staff from the Philippines | iSuporta
 
Outsource Copywriting and Content Writing to the Philippines – Hire Remote Staff
Content Writing is one of the most valuable professions and skill sets today in Digital Marketing and in the world of Advertising in general. It was and is active, ever since the Golden Era of Advertising, certainly in the Age of Google and Web 2.0 it has always been a fundamental part of advertising.
There are different kinds of Content just as there are different kinds of industries. And it's important that in Hiring a Content Writer, you know what you're looking for. These can range from Ad copy to Landing Pages to Sales letters. In either way whether your content is online or offline, it needs to be compelling copy. 
Here are just some examples of the different kinds of Content you can get.
Copy Writing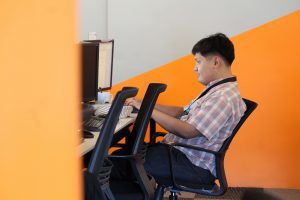 These are typically short bursts of text which you need in order to capture the attention of viewers to your website. Now even before the Internet was in use, this has been among the oldest forms of written advertising and it hearkens to billboards and even earlier forms of written ads.
They can be positioned as a boldfaced text or blurb in a website and also include some of the little segments of text which are designed for people to read as they reach your website. It's important to customize your content writing towards your target audience. 
Short and Long Articles
These are examples of small write-ups or informative articles targeted towards a given topic or niche. They can range between 500 – 700 words and are often written with the interest of offering information that is OF VALUE to those browsing a page.
Sometimes, these can be uploaded to Blogs which serve as Backlinks to link directly to your website.
At times, they can be social media posts which you share on Facebook, LinkedIn and Instagram to keep people engaged.
These can be categorized into the following
Blog Posts
These are often the bread and butter for achieving really good SEO (Search Engine Optimization). Normally, things address many of the issues that transpire in any specific industry. 
Whether you work in Finance, Outsourcing, Dentistry, Real Estate, Medicine, Digital Marketing, Mining or Air Conditioning, there is Content to write. However, churning up the RIGHT kind of content, the right kind of information and density is crucial.
There isn't a one size fits all approach to how long a Blog Post, is it can range from 700 to a couple of 1000 words. 
And it's important to put Photos or Videos. Content is king and these days it needs to be optimized to the degree where it positions you as a believable leader in your industry.
Some of the articles can even contain humor and photos which are designed not only to entertain the readers, but to drive a point across. 
       White Papers 
Sometimes, this is a little like Technical Writing. Essentially, these are informative articles where a Problem is often presented, and a comprehensive, but concise and readable solution is shown. 
The drive here is to create informative content. With these in mind, writers can also write about industries or topics that are not generally known to the public in general. If these are comprehensive enough then you're going to be able to go out on an information campaign that relates directly to your brand or practice.
This is true for profit or non-profit entities. 
Off Site Content
These days, in the interest of SEO, there is a need to become visible across the Internet if you don't make yourself visible then no one would know about your branding and how to reach you. Below are the following examples of off-site content
Forum Posting
If you genuinely contribute to a forum, and at the same time, make people aware about your on Website and brand, that is a great way to establish credibility in the industry. This is a way to reach both potential business partners and clients. If you want your brand out there, it's important to position yourself as someone with supreme credibility. 
Social Media Posts
Sometimes, these can be short bursts of text, and often excerpts of an already written article on a page.
For short texts, they should be catchy and attractive so that they can be able to entice viewers into taking a certain action.  These days, social media is where majority of online content is delivered so it's important to create content for these platforms. 
Sometimes, they can come in question form such as:
Do you wanna lose weight without diet? 
YouTube Videos
Video content is highly important today in order to capture the attention of readers and viewers. But content writing is directly tied to this whole affair. Because if your Video Descriptions, your Social Media copy which leads to the videos don't contain CTA's, they aren't relevant descriptions — then your movies aren't gonna fly. 
It's vital that you inform people what the specific video is about and what they would learn from it.
Or you can make transcripts of it or segmentize it so people are free to skip to the portions which are most valuable to them. 
Product Descriptions
These should be both concise and easy to read at the same time. If you want people to buy from your ecommerce website for instance, it's important that the way you present your hardware products, software, apps or kitchenware are utterly descriptive.
These can be very technical as well because they need to contain the accurate descriptions, product number, and product versions, it's important that these are descriptive enough so that people would be able to hone in on the items they want.
Here's something that's very important: YOU WANT IT TO BE EASY for People to Purchase.
And writing good Web content from articles to product descriptions are part and parcel of this whole process.
If you wanna do a little underhanded tactics, you might even write fake product reviews. Yes, that's also part of the whole territory of Content Writing in general. 
However, if you want TRUE, VIABLE, VALUABLE Content, then you need to hire a Writer who actually knows what she or he is doing. They need to be willing to do research on your industry and to present yourself in the most credible way.
Things you CAN DO with a Content Writer
Train and ask them to do Keyword Research
Allow them to think Outside the Box and write enticing Pieces of Copy
Allow them to Link 2 or 3 different Niches together to ensure the Net your Brand casts is wide and relevant.
Let them Rewrite existing Copy on your Web pages.
Ask them to Create NEW COPY altogether for your Web Page
Have them Create BLOGS which serve as extensions or Backlinks to your site.
Let them surpass your competitors in SEO by checking out the ranking articles and Content and enabling them to innovate ways to make your work and Content Better.
Ask them to put pictures and add Alt Texts and Tags to your Photos in your site
Ask them to write Title Tags and Meta Descriptions to boost your SEO
Ask them to write Copy for Email Marketing Campaigns
Have them work with your GRAPHIC DESIGN Team to add Copy to existing Photos and Graphics
What about OUTSOURCED CONTENT WRITING?
It's also important to know how outsourcing can help your business tremendously IF you hire the right company. 
Outsourcing through a Remote Staffing company is immensely valuable, especially if that same company allows you to customize your operations the way you see fit. It isn't about creating website content alone, it's about keeping your strategies aligned so content marketing becomes more organic. And the visibility of your product, service categories are understandable. 
WHERE SHOULD I OUTSOURCE?
Think about this, how much would it cost you if you set up your own office there back home? You'd have to rent a building, pay for your employees, pay for their government benefits and also make sure that the entire infrastructure is safe.
The Philippines has exceptionally literate staff in oral and written English.
Hiring a Content Writer here – if you've pooled from the best of the best is equivalent to hiring a Native English speaker over there — and at a third of your usual costs.
  HOW TO FIND CONTENT WRITING STAFF?
By contacting us. You'll be given the choice of Employee or Number of Employees to choose from plus FULL TRANSPARENCY ON PRICING, No Hidden Costs!
Why iSuporta?
Because of the low turnovers and the Job Stability we offer. Your low wage is our high wage, twice of what most people make in the country. You won't be getting low-rent workers who are disgruntled. Since we pay them competitively, including HR, benefits and complete on-boarding, all you have to do is lay out your terms and how you want things done.
We comply with all Philippine Labor Laws and we are a PEZA Accredited Outsourcing Company, provider of Content Writers and other Remote Staff across many industries. 
We also provide you an On Site Supervisor so that you can make sure your tasks are being delivered on time and with the quality content you prefer.
Contact Us so we can help you with your Content Writing needs.
Best Use Cases for quality data sets 
We focus on high level of accuracy, with internal training programs, and knowledge share, to make your Artificial intelligence (AI), Machine Learning (ML), and Natural Language Processing (NLP) project a success.