Hire Offshore Warm and Cold Callers, Boost Sales.
Establish an Offshore Sales Team in the Philippines. Save Time, Money and Increase your conversions. 
 
Warm & Cold Calling
In your call center operations, there will always be a need for telesales, sales follow-ups and customer support. These are important facets of eCommerce or any industry that wants to attend its customers properly. It is necessary then to distinguish the difference between Warm calling and Cold Calling.
Here is the basic difference: Warm calling is generally a follow up to prospects you already have while Cold Calling are calls initiated to target a specific audience whom you have not yet reached with the interest of hooking their interests. Sometimes the best way to take advantage of these are through offshore staffing.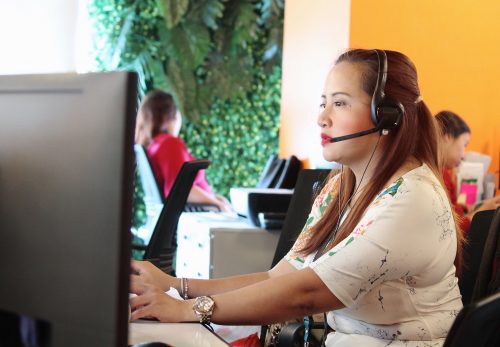 Often you can get prospects for cold calling through Lead Generation. Lead Gen is such a crucial step in your telesales efforts. This is where you scout for potential customers and calibrate what their habits are to learn if they are going to have the propensity to purchase products from you or not.
Here are some of the skills you need for Cold Callers
Sales
Telesales or telemarketing is often the intention of sending out cold calls. It's important to tap into leads who may be very interested in securing a sale. It's important that upon initiating the call, your telesales agent is able to capture the interests of your prospects. What matters is your sales agent is able to find a reason to keep the customers engaged. And if they take a genuine interest in the product, they are more likely to make a purchase.
The Ability to Paraphrase
If someone misunderstands anything about your initial sales pitch, then a good cold caller ought to be able to improvise things right off the cuff. Being able to speak spontaneously shows a great understanding of your product lines. If someone mentions the specs of a certain rotisserie for instance that has the same specs as another cooking, apparatus upon your call, then you can redirect them to the actual product you are trying to sell.
And if your agent has managed to hook the customer then it is vital to be able to carry out the conversation in an efficient way.
Active Listening
It's important that when you're trying to contact someone your Telesales agent is able to listen and take a genuine interest in the person. If the cold caller is someone who actually validates the needs of the potential client, there is a chance that potential customers are going to want to avail your services.
These are important tenets in cold calling. You better be sure that you don't stick to a cold call script if it doesn't work, but rather tain your sales rep to also be your decision makers as it comes to judging how to treat customers.
The pre requisite then for cold calling is being able to gauge the demeanor of the other person and then act according to how they might respond.
What is the difference between the skills of Warm Calling and Cold Calling? Often, in telesales, your agents are going to be performing both cold calling and warm calling.
So they need the skills of both these competencies in order to reach people and be able to give you the conversions you want. What you need then is to hire Telemarketing professionals with the right skills who match your Verbal communication skills or surpass yours altogether.
Where Can I Find Warm Callers?
Where can you find cold and warm callers? Likely the same place you establish your entire telemarketing team. You can find a bunch of sales reps anywhere, but those who are actually worth their clout can help you if they are employed by an exceptional remote office that provides them the equipment and the training they need.
You best avoid work from home callers because freelancers aren't as devoted to your work as those employed by outsourced managed operations providers. It is necessary then to begin with deciding the skill sets of the workers you are going to hire and then working from there.
Here are some of the skills of Warm Callers:
The ability to recall things easily:
If you're going to be making a follow up call, its crucial that your agent be able to make sales calls where they pick up where their call left off and be able to carry on the conversation as the client picks up the phone. The interest in th your products or services is important and they need to be able to gauge what level of making purchases is necessary.
Cross selling
If none of the products they're looking for are currently at sale, or maybe they're considering cancelling their order then cross selling or upselling is a very useful skill. This enables the telemarketer to judge what other items from your products listing might capture their attention.
If the caller decides to call off their order then you don't want to be empty handed. A good telesales agent is really resourceful in grabbing their attention.
Close a Sale
It's important that if you've began follow ups you can close a sale efficiently having provided them something of value. If your telemarketer has the confidence, then they can guide the prospects with the answers to questions they need and that is what convinces the customers to take advantage of your products or services.
It's important that you also have a Results Coach who makes sure your employees work with precision. You can train them with virtual calls and live sessions as if your remote staff where field staff.
Remote work is not something you should take on a whim. If you have a lot of call prospects, then your Lead Gen and Telesales team need to take your efforts as seriously as they can.
The best kinds of warm and cold callers are those who not only go through your call lists, but they also know what makes certain existing customers tick. They know what to ask in speaking with warm leads. Managed remote staffing that allows you full operational control is the best way to go about outsourcing your Lead Gen and Sales needs.
If you've found the right Outsourcing company, then give them your cold calling tips to make sure that both cold and warm calling work. Partnering with the right outsource staffing services, you are able to implement the right strategies through market research and superb expertise in warm and cold calling.
Do More, Contact more, Work Less
Utilizing Staff is key, we can do the leg work so you don't have to.