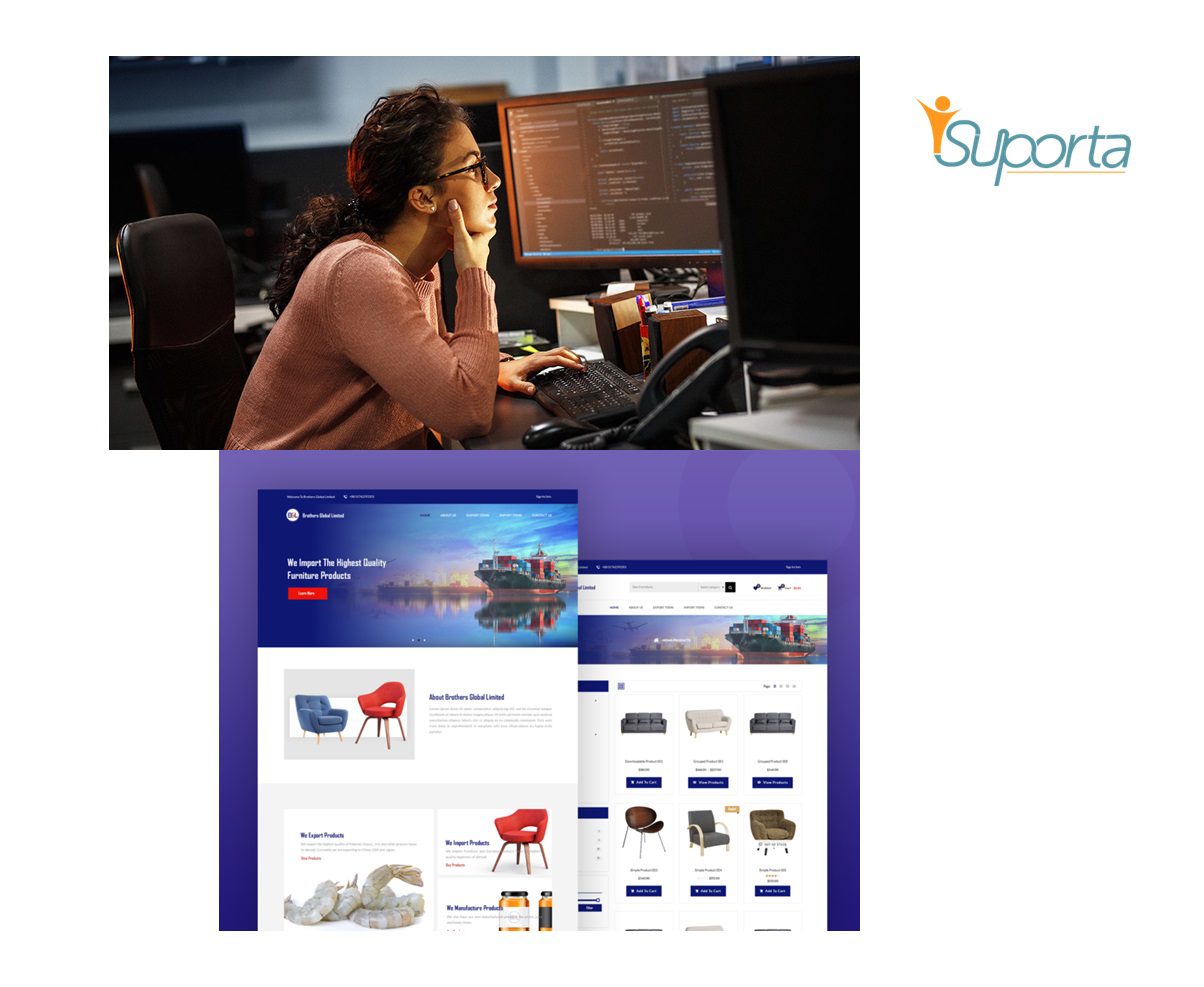 eCommerce Website Builder
If you want to start an ecommerce business, it's important to be equipped with the right tools in order to proceed. The coronavirus has been forcing brick and mortar industries to either shutter their assets or shift to an online business model.
e-Commerce is where it's at. And even before the Covid-19 pandemic, there have been many ways to innovate with tools such as Bootstrap and Magento and with CMS such as WordPress has been a way to design a business and push it forward to create a specific brand.
That said, if you want to use only makeshift tools, you can start an eCommerce platform on your own. The most important thing is to start building an ecommerce website accessible to anyone while not compromising on quality.
But if you want to start scaling, then it's important to outsource your ecommerce activities so that you can develop it with the utmost quality, host it efficient software and hardware and make sure all your applications are functioning so that you can compete with other websites as well.
You can use a drag and drop CMS but using a CMS can be limiting if you want more options for your system to store your data and operate in a way that gives you full creative control.
Here are some of the remote employees you may need to hire if you're considering becoming an eCommerce website builder
Web Developer
These are probably the most crucial people if you want to create a websie on your own. Your site will obviously consist of apps and mobile apps. It's important to make sure both go hand in hand.
You need people who are able to provide you control over your website's navigation, content pages and the like in order to ensure its efficient functioning. An excellent web developer is keen on functionality yet does not compromise when it comes to the way you want to present certain things across your brand.
Web Designer
These remote employees work hand in hand with the web developers. They come up with the layout and design of the site to ensure that it matches what you require. Initially, what they create is a demo, and the developers implement the architecture and design using whatever host or apps you need and after this process QA testing will be done on a regular basis.
Content writers
Content writers are crucial in ecommerce. They create the articles, the content and copy writing of each and every section of your website. You can also assign them to oversee your social media pages.
Their work will always be invaluable because every now and again, you will need to revise content from time to time to ensure that it matches the message you are trying to get across as well.
There are other services you can hire and other aspects you can implement as part of your online business. You may even think about starting an Instagram or Facebook page to build brand awareness. From there you can hire a social media coordinator and begin campaigning for awareness of your brand.
Here are some of the things you may need to keep in mind if you want to open an online store.
Who is your target audience?
Thinking about your target audience is imperative. You need to know the right people so that the site it's designs and its apps can be customized to the kinds of people you are marketing towards. This is an essential step in working out your website.
What kinds of products or services are you selling?
The things you offer are going to be reflected in the packaging of the site. You need to make sure that your message comes across efficiently and people immediately understand what kinds of items you are selling. This is a key step in maximizing your profits.
Where can you Outsource?
Outsourcing an ecommerce website builder is absolutely feasible if you want to grow and scale but don't want to overshoot your overhead costs in hiring more local workers and paying for their equipment.
With the right outsourcing partner, you can find equally talented employees for about 70% off the original price.
What matters is you still take control of your workflow and we simply provide the remote employees and the desk space and equipment for them to work with.
Find an outsourcing company who belongs to a country who is used to catering for your industry and for handling remote staffing in general.
The Philippines has been recognized as a top outsourcing hub in Southeast asia. With the right outsourcing partner, you can find the best college graduates who are tech savvy with the different platforms in ecommerce website development.
You can even integrate them with your onshore team should you wish to grow and scale but without any speculative overhead costs.
Why iSuporta?
At iSuporta we don't just give you people and then put them in a box afterwards, we train them, nurture them, take care of their compensation and benefits and make sure they are accountable.
Managed Operations
At iSuporta we don't do freelance we are a managed operations model of remote staffing. We provide remote employees but we also ensure their supervision. If you hire a freelancer you may get them for cheaper prices, but that does not mean they will operate in an accountable way.
Full Cost Transparency
We also offer Full Cost Transparency. With this, you'll be able to know what you'll be paying for and you'll get the most out of your websites and able to compete with online stores as you manage to save costs while at the same time choose the way your workflows are implemented.
We have on site or remote supervisors to ensure the work you need is being done. You don't have to worry about compensation and benefits because we handle the admin work.
Highly Motivated Staff
Most of all, the ecommerce website builders you hire will be highly motivated because we pay them competitively. The relatively low cost of living in the Philippines allows for college graduates and highly trained candidates to help you as your remote staff.
Think of us as an extension of your onshore operations. You get to choose the aspects you and your team manage and those which you want to delegate to us. Contact us for more information on remote ecommerce staff!