Telehealth Call Center
Telehealth has gained the popularity it has because of it's ability to treat patients and empower patients with choosing the treatments which feel best to them. It may even be more popular these days due to Covid, but what has given it appeal in the past was the sense of independence that it gave people.
Telehealth is an efficient way to deliver medical services to people who don't need urgent treatment. So if it's maintenance or ongoing care, this will allow patients to feel a sense of self sufficiency.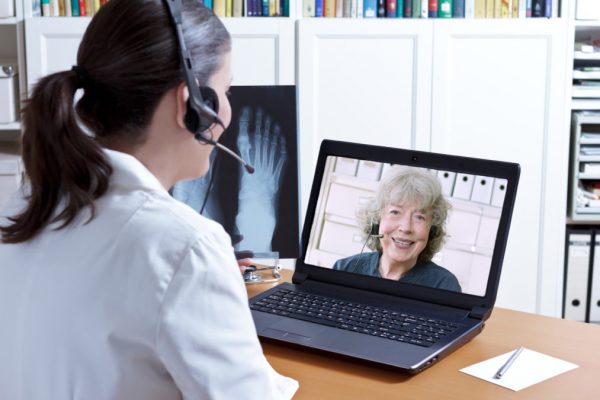 In the United States and other territories, telehealth allows patients to gain access to routine care they need without having to travel long distances to a clinic. Ideally, it will be supervised by a Medical Practitioner near your home town or state. But it can put a lot of leverage on healthcare when patients get taken care of when they need to through remote means.
What is a Telehealth call center?
There are a number of telehealth services and each of them are of different categories. Here are just some of the basics.
Telemedicine
This refers to the act of treatment and assessments using remote telecommunications technology. Typically this is where video consultations come in including showcasing of medical images through Zoom calls, remote diagnoses and certain assessments which take place between a health care expert and a patient. Phone calls, video chats and even traditional SMS's can be used for these transactions.
Mental health services
Telepsychiatry or remote mental health services allow people to seek therapy without actually going to a psychiatrist's clinic. This is great for many people who are experiencing psychological distress including anxiety and depression. In Covid-19 those who have been undergoing isolation may find it useful to take advantage of telepsychiatry services if they can't immediately get that friend in need.
Physical therapy
This is a little more complex than other forms of telehealth because it uses the full spectrum of audio and video transmission. The doctors need to see the patient moving or if they're making any progress in situations such as recovering from an operation.
Medical information and archiving
Archiving is extremely invaluable such as keeping patient records, records of admissions and any updates to their medical care routines. This can have a tremendous amount of convenience particularly if patients want to keep track of their own progress and if any changes have been made to their medical itinerary in recent periods.
any questions about your itinerary and what changes if any to the schedules of patients.
Store and forward options
These are efficient methods of storing and forwarding medical information efficiently. This makes it more effective for patients who are wanting to get information as quickly as possible.
And if things are being done through remote, then the store and forward functionality such as using standardized email servers or other apps can become a routine way of transmitting information towards different parties.
If you want to outsource your telehealth, there are tremendous benefits to doing so and it may even allow you to expand your healthcare practices even further.
Get collections done on time
Medical billing is crucial. You need to make sure you're getting paid for the services you offer. With an efficient team of remote employees, you can get paid in time and make sure that each of your transactions are being recorded and archived in a way where you can easily keep track of your revenues and collections.
Offer more healthcare services
If you are able to save on staffing costs and resources, you can offer more health services there back home. And conversely, you can be an online provider of telehealth all across many states and locales provided the procedures don't always warrant the need for a doctor.
Online referrals to other healthcare professionals
You can also partner with other clinics for online referrals. Telehealth gives you tremendous flexibility in terms of how you can relate with others in your field. You can empower other doctors to reach out to more people, collaborate with local doctors whom the clients meet with and share medical expertise to make sure the patients are getting the things they need on a regular basis.
Online nursing
With the use of these services, nurses can deliver and oversee patients using computers, mobiles, telephones and other remote tools. It's pretty similar to having an in person nurse! Working with nurses through the use of telehealth provides real time support and assistance to your patients. A nurse also knows how to speak medical language and can convey information to doctors just as easily.
Personal Health Apps – customizing medical services
You can use the full power of the Internet through customizing personal health apps if you hire a web developer or a mobile developer to work with your telehealth team. This tremendously enhances the way you can relate with patients. Or if you have them install an application by themselves, they can use it easily and keep careful track of their progress during their treatments.
Things you can do with a Telehealth Call Center
If you want to take advantage of telehealth outsourcing, that can offer you multiple benefits. Here are some of them.
Serve more patients and their families.
If you are freed up on other tasks and if you can easily scale through the use of remote medical technology, that efficiently allows you to reach more people. Conversely, if you outsource some of your functions, then you're better able to help more people and give them quality care.
Appointments are easy.
If your patients don't have to commute, this results in more convenience for them. It's going to be useful for those who cannot commute and could nt handle the physical toll of going from place to place. As long as the Internet connection is stable and they can work with you through virtual calls, there's no reason you can't pursue telehealth.
Customer satisfaction – improve your health care services
If you're able to work with patients on a regular basis or you have on call staff who can attend to their needs, then they're likely to be satisfied with what you have to offer.
Lower admissions and hospitalizations
If you take care of them this efficiently lowers hospitalization rates. Hospitalization should be a last resort. If a doctor or healthcare professional can more or less get to them on time, then it would be as if they had extensive consultations without needing to go to clinics all the time.
Superb attendance to admitted patients
If a patient is admitted, you can still very well use this remote technology to get in touch with nurses and staff to help them out. If you outsource a back office team, they can also keep track of these occurrences and make sure all patients on your list are attended to.
Why iSuporta?
If you want to work with a Telehealth call center, you want it to be with people who can provide you top quality healthcare professionals who can serve as remote employees attending to both back office and clinical functions.
The Philippines has top notch medical professionals
In the Philippines, we have top notch medical professionals who can attend to your needs. You can get back office staff and even doctors and nursing staff who can supplement your practice and ensure your medical treatments are being delivered in the way you want them to be.
Full cost transparency
If you work with us, we offer full cost transparency. You know what you're getting from the start. There are no hidden costs and we can offer you the best of the best in remote employees who are highly motivated and highly trained.
Highly paid remote staff
You won't be getting disgruntled pencil pushers when you hire us as your outsourcing partner. You will be getting highly paid remote staff who are comparatively higher compensated than most of the labor force in the country. That said, many Filipinos are highly skilled in American English, communications and call center work all of which can encompass the telehealth field.
On Site Supervisors
You will be getting on site supervisors or results coaches. These supervisors will make sure your work is being done and your employees are not slacking off. In addition to that, they can relay to your staff any additional needs you might be having aside from what is on your current quotas.
IT Staff and Tech Support
IT Staff and Tech Support are the benchmarks of any call center operations provider. If you can be assured that you have 24/7 Internet and Power, this assures you that your medical practice will be given the most efficient tools possible. You don't have to worry about the overhead or prices.
Remote staffing adjustments
You can make changes to your remote staffing arrangements and request for software and hardware you specifically need. It's important that you find an outsourcing partner who is willing to customize their your operations to suit your workflow. Avoid going for a pre-packaged outsource company that only puts people in a box.
HR and Compensation
You don't have to worry about the compensation and benefits of your employees. We provide HR staff and they take care of compensation, benefits and other remittances. You only have to pay for the remote staffing package you use and trust that your employees will be compensated adequately.If you wish to give Christmas bonuses to employees then, you can be assured that it will get to them.
Improved coordination
We also offer basic customer service staffing who can help you coordinate between patients and even ask for referrals and collaborations with fellow doctors. Making sure you stay connected to the medical community or circles of practitioners whom you trust can help you foster an efficient telehealth practice.
Nurses and doctors are top notch in the Philippines
Nurses, doctors, medical technicians and other healthcare professionals in the Philippines are highly trained, use Western medical science and are schooled in the most fundamental to the most advanced in Traditional Medicine and Pharmacokinetics. You can be assured that you'll be partnering with those schooled in the medical arts.
Collections and Payroll
You don't have to worry about collections and payroll if you outsource these aspects of your healthcare to a call center company. The best thing about offshoring these operations is that it frees you and your internal staff from having to do a lot of tedious work. This enables you to be more focused on treating people and attending to the things which matter the most.
Drop us a message if you want to learn more about outsourcing telehealth.