Outsourced Logistics Support
Logistics Management is a highly complex field but the day to day task can be done by remote staffed employees, next door or in the next country. Logistics outsourcing services can be the key to managing all these components at reduced costs and better staff. If you contact your current employees through any medium, other than personal, you are already doing remote staffing and outsourcing. Not in the traditional sense but, you are still using an electronic medium to contact them. Today, there is no difference between next office, and next country.
You don't just want to save on operational costs superficially, you want to save for the Long Term. If you decide you want to use offshore logistics, then it's time to find people who'll allow you to run your operations the way you want to.
This is why finding the right outsourcing company is the key.
You can hire an Outsourcing partner to do your tasks or you can hire a Remote Office in order to satisfy the rest of your admin tasks. For example, here are some Logistics Functions You Can Outsource:
This is such an important facet of the game. There's obviously a lot of transactions and a lot of calls coming in. You can appoint your Outsourced Logistics staff to record, encode and report the information that comes into your company so this makes it a whole lot easier to start monitoring the transactions you would like. You'd also want to hire a company that can provide safe and secure inputting and delivery of information.
If you already have a fully fledged company, then having a Customer Service team is essential. Great customer support is quintessential for any company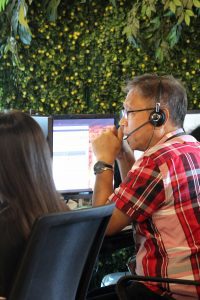 that wants to grow and scale. Plus, it's simply a good business practice to readily attend to your customers whenever they have some questions or concerns. It does not matter what industry you belong to, you will always benefit from having a strong Remote Team of customer support specialists.
Software Development
If you want to customize your apps for you and your employees to use, then you can also outsource Software Developers. You need to hire men and women who are really good at what they do but also appreciate the specifics of your industry. Whether your concerns are supply chain management, order processing, they will find a way to streamline your operations. They can make the best of Cloud computing, and Software Development ready for you to use.
It's important to make sure you are being paid and also remitting your debts on time. These are just one of the best things you can outsource as a logistics function. These need to be in one place which you can view and judge for yourself. The advantages of hiring an offshore office is you get your Key Accounts Management team along with the other staff you need.
If you want to keep a record of transactions properly you can hire an Accounting and Bookkeeping Team. Or you can hire other Outsourced financial professionals to help you improve your efficiency across all your logistics management functions. Find a company that employs people with the Right Qualifications, but also a firm that's going to allow you to dictate the workflow of balancing your books.
How Can You Find the Right Outsourcing Partner?
There are several qualifications which dictate whether your outsourcing relationships are going to be great or not.
Long Term Reduced Costs
It's really simple, long term reduced costs is only afforded through having a strong and robust Remote Staff. That is, an outsourcing company that has zero to none turnovers and also compensates its employees properly. It only makes sense that you need to draw from providers whose expertise is a match to your requirements.
HR and Compensation
You also want to hire a Remote Outsourcing team that contains its own human resource and admin department. They will be the ones in charge of compensating them. This frees you up from needing to attend to these yourself but also ensures your Remote Staff members are paid well and on time.
IT and Infrastructure
You want an office with Backup Power and Backup Internet so that your workers can function 24/7. Also you want the best in PC Equipment and other components of hardware and software you see fit. All of these should be readily made available so that you can deploy your remote team efficiently.
Things You Can Do with an Office for Hire
A Remote Office, Offshore Office, or Outsourcing Company can mean the same thing but there are distinctions between what outsourcing providers offer. The typical Business Process Outsourcing firms BPO's is simply to put people in a box while you relay their metrics. The best kind of arrangement is that you are allowed to customize your own operations.
If you open an office right then and there you might have your overhead costs rather high. Getting the right logistics outsourcing partner can enable you to spend lesser but at the same time, you'll be able to oversee your workers and staff the way you would normally want to if they were back home.
Most of the time in the Business Process Outsourcing, BPO industry a lot of the offshore logistics that takes place is putting people in a box. Sometimes, employers just give their employees a set of metrics to comply with and they do it.
If you want to reach more people then talking about changing your marketing strategies and approaches is paramount. Appointing your 4PL Logistics staffing partner is good if they can also take marketing into account. If that is part of the whole conversation, then there is a greater chance you can maximize your offshore staff and they'll be able to assist you with reaching the right target audience.
We also have Digital Marketing specialists including Content Marketing, SEM and Telesales to help you reach more clients.
iSuporta – Why Hire Us?
It's because we believe in giving entrepreneurs Full Operational Control. If you want to ace your sales and optimize your supply chain, then you're gonna need to partner with people who are going to allow you to take the helm.
We also pay your Remote Employees twice more than how regular workers are paid here in the Philippines.
They are highly trained and highly motivated. We ensure that they are paid with the right salaries in full compliance of Philippine Labor Laws.
Plus, iSuporta isn't just like any standard Call Center.
Getting us as your Office for Hire means the Equipment, the IT, the Tech Support all comprise your Logistics Outsourcing package. You want creative control. But you also want the Infrastructure and Support.
We also give you an On Site Results Coach to make sure that your Offshore Team is performing at their top most.
Best Use Cases for quality data sets 
We focus on high level of accuracy, with internal training programs, and knowledge share, to make your Artificial intelligence (AI), Machine Learning (ML), and Natural Language Processing (NLP) project a success.